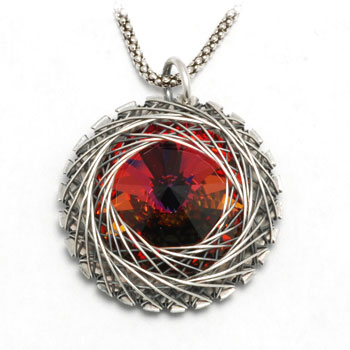 Spiro Pendant
Come create this pendant inspired by the spirograph and string art from days gone by. Starting with a sterling blank, students will learn to notch and file the outer edge to provide the perfect layout to add weaves. These weaves will entrap and support a Swarovski stone. It is easier than it looks!

Take the Online Class! »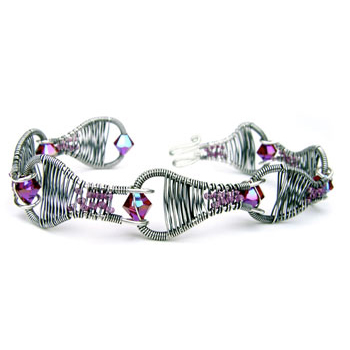 Woven Mandoline Chain
For you advanced wireworkers looking for some new techniques, this woven mandolin chain is just for you. Using very fine wire, 6mm Crystal and seedbeads, we will perfect these stylish links, then connect them to form a bracelet.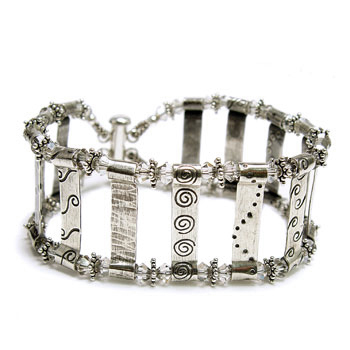 Stamped Ladder Bracelet
Make these fun, textured strips by stamping with design stamps or letter stamps (or stamp words if you wish) and by texturing with a chasing hammer. You will be learning stamping, oxidizing and shaping. From there we will string up this whimsical and light bracelet.

Instructions for this project can be found in Lisa's book »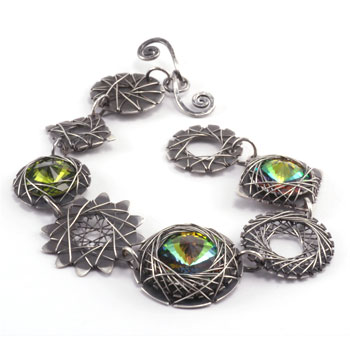 Supernova Bracelet
Students will create these spirograph and string-art inspired woven components. Starting with sterling silver blanks, students will learn to notch the outer edge to provide the perfect layout to add weaves. You will also incorporate a few Swarovski stones to "bling" it up and concentrate on this bracelet design.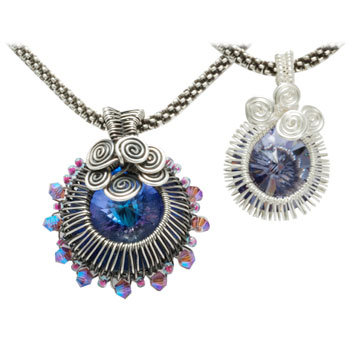 Woven Pendant
Lisa has applied weaving to wire to form a bezel. In the 3 hour format of this class, you will bezel a 18mm Crystal Rivoli. In the full day class, you will make two bezeled rivolis, one of which will be embellished with crystals and seed beads.

Buy the PDF Tutorial »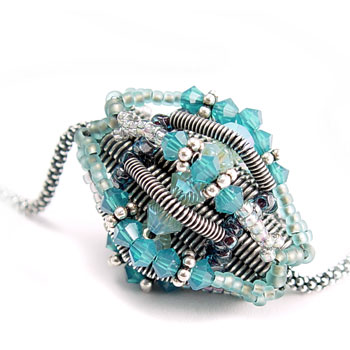 Coiled and Stiched Focal Bead
Start by making a wire coil which will be cut up to create coiled tube beads. Then it is time to put away the wire working tools and switch to needle and thread to stitch the tubes, crystals and seed beads together to create this 3 layered fabulous focal bead. Your finished bead will be approximately 1 inch long.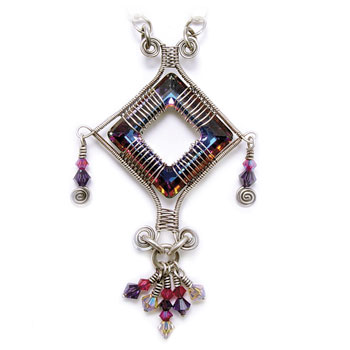 Fiesta Pendant
For all you advanced wire weaving folks, here is a new way to apply your weaving skills. Come make this pendant of weaves, dangles and spirals. Proficiency in wire weaving is required.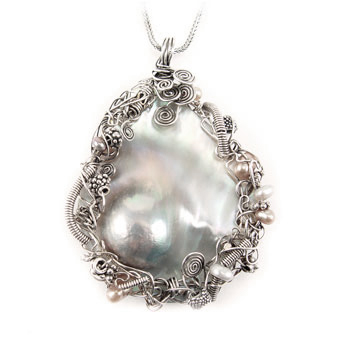 Entangled Wire Bezel
Lisa will teach you how to form a wire cage which entraps a Mabe Pearl or Cabochon with no binding wires in back. We will then add some freeform wirework and Bali Silver Beads to really jazz up this bezel.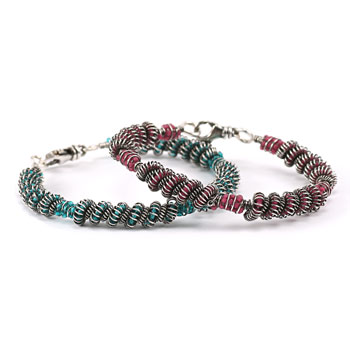 Captured and Coiled Seeds
More fun with seed beads and wire! Students will learn how to coil wire on a drill and then create multiple sizes of coils. Finish by capturing seed beads in these coils to create this surprisingly quick-to-make bangle.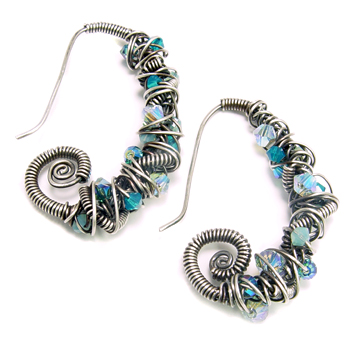 Tornado Earrings
Tame Sterling wire into these sculptural and surprisingly light earnings. Not only will you learn this versatile freeform wirework, you will perfect spirals and coils and learn how to harden these earrings to retain this great shape.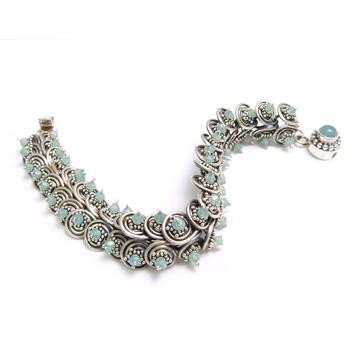 Spiked Spiral Chain
Ahh, this bracelet feels amazing on! Working in wire, you will start with a double spiral link pattern and then embellish it with gorgeous Austrian Crystals and Bali Silver Beads. You will also learn tips and tricks to antiquing and polishing.

Buy the PDF Tutorial »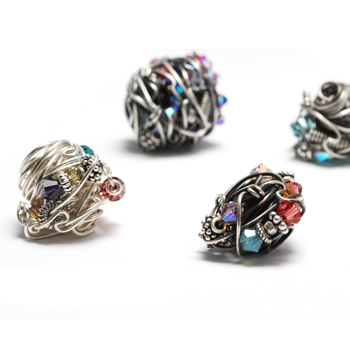 Wire Tornado Beads
Just like tornados, these wire beads will twist, tangle, spin and pick up random objects (like Austrian Crystals and Bali Silver Beads). You will love how easy and fun these freeform wire beads are. We will also cover wire coiling, antiquing and polishing.

Take the Online Class! »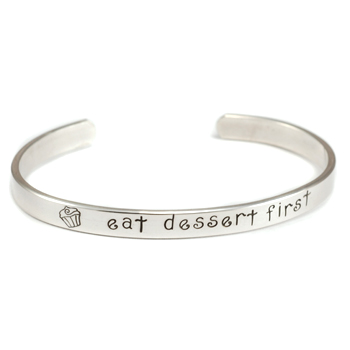 Say It on Your Wrist
This class is simple, fun and makes great personalized gifts. We will be making cuff bracelets of thick Sterling Silver wire, on which will pound letters and designs. Write out your favorite saying, words, or perhaps the names of your kids! The bracelet will then antiqued, polished and filed for nice rounded smooth ends.

Take the Online Class! »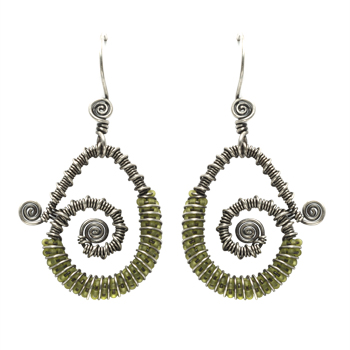 Continuum Earrings
Create these ancient looking earrings by coiling wire and seed beads, and ending with classic spirals. Complete this earring by making a wrapped spiral pair of earwires.

Take the Online Class! »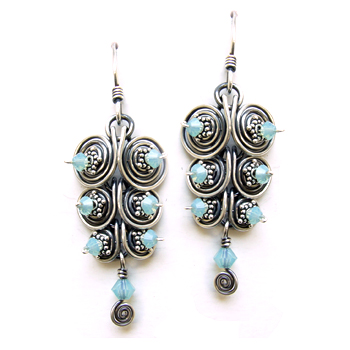 Spiked Spiral Tapered Earrings
Learn to create this gorgeous pair of earrings. Starting with straight wire, you will make the tapered double spiral links then "spike" them with Swarovski crystals.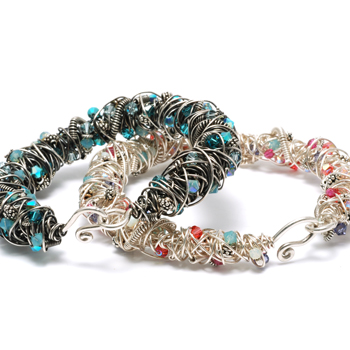 ShaBangles
Coil, bend, wind and boss that wire into amazing bangle bracelets. Craft two of these artful whirlwinds of light and texture using Lisa Niven Kelly's sculptural wire techniques. Discuss antiquing and design options then finish with a spiral hook and eye clasp.

Buy the PDF Tutorial »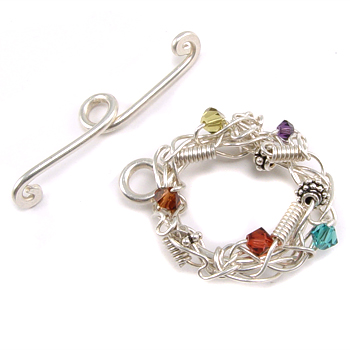 Tornado Toggle Clasp
Start by making a heavy blank Toggle then use Lisa's sculptural wirework technique to create this great, versatile, embellished Toggle. Use it in any project that needs a clasp or simply highlight it as the centerpiece of a necklace.

Take the Online Class! »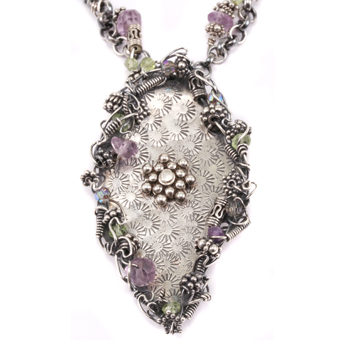 Textured Metal Pendant
Here is a project for those Wireworkers who like to work Sculpturally with very few "rules". Begin by cutting out your own personal shape from Sheet Metal, and then stamp it with various decorative stamps to add texture. Embellish the rim and center with silver beads, silver wire and semi-precious beads.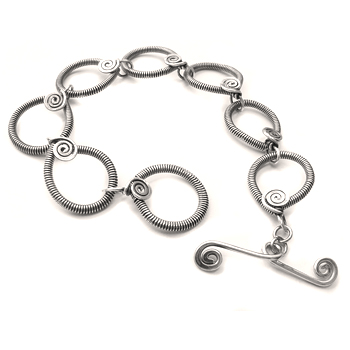 Full Circle Chain
Using coils, spirals and wraps you will learn this somewhat vintage and ethnic looking chain. This chain makes great necklaces and bracelets.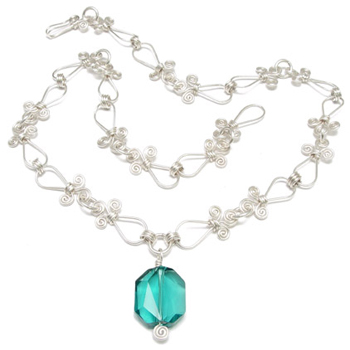 Fleur de Link
Lisa has transformed the Fleur de Lis symbol into a spiral design which looks great as a link in this timeless chain. Learn new applications for spirals, linking techniques, triple split rings, how to make jump rings and a great spiral Fleur de Link clasp. We will also discuss how to antique and polish this project.

Take the Online Class! »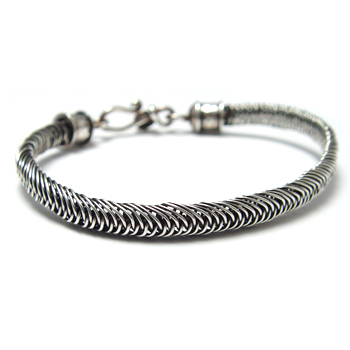 Mermaid Braid
This weave is a take on the Fishbone braid but Lisa has adapted it to incorporate in a core wire. Learn tips on how to properly hold the wires while braiding to get the best tension possible. Learn to work with Bead Caps. End this bracelet with a new Wrapped Spiral Hook clasp.

Take the Online Class! »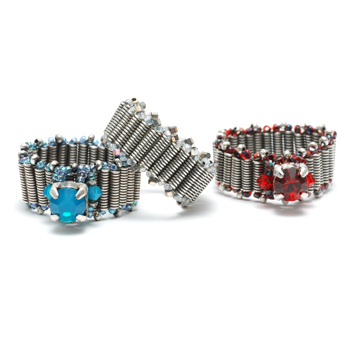 Queen's Rings
Here is a project that capitalizes on your wirework and seed bead skills. We will start by making a coil out of wire then snipping it up into tubes to then be treated as beads. Then stitch them together with seed beads, tiny Thai silver beads and Swarovski crystals to create a ring fit for a queen.

Buy the PDF Tutorial »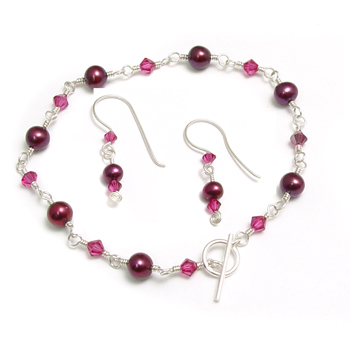 Wire Jewelry Fundamentals
The wrapped link has a wealth of uses. Use it to link pearls, add a clasp to a chain, or whatever your project needs. Come to this class to perfect a very useful technique.

Take the Online Class! »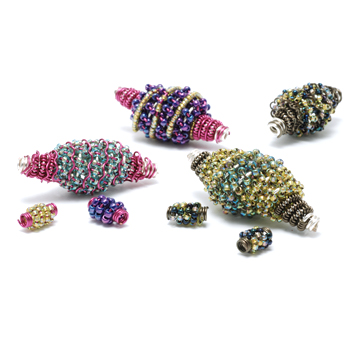 Wired Seed Beads
You will love the simplicity of this technique, which results in impressive, multi-textured beads. String, coil, and weave seed beads on wire to make five different beaded beads.

Buy the PDF Tutorial »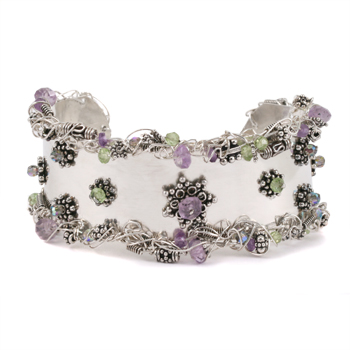 Sculptural Wire and Sterling
Sheet Metal Cuff
In this fun, freeform, and expressive class, we will start with a piece of sterling sheet metal and embellish the outer edge with wirework and beads. A few beads will also decorate the middle of the cuff before shaping. No sawing, soldering, or filing, just simple pliers, sheers, and a hole punch are used. You will also learn to antique and polish your piece.